Dylan Thomas tribute: Bob Dylan wanted for Swansea concert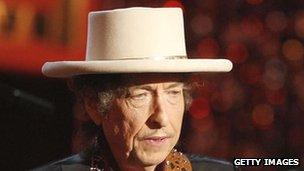 A campaign is growing for Bob Dylan to perform a concert honouring poet Dylan Thomas in the centenary of his birth.
Swansea West MP Geraint Davies wants the veteran American singer to play the Liberty Stadium, home of the city's resurgent football club, next year.
Sony Music has told him that Dylan, who many believe named himself after Thomas, is "thinking very positively" about it.
The MP said the "Dylan to play Dylan" campaign had gone viral.
It has won support from Welsh singers such as Cerys Matthews and Mike Peters, among others.
There are a number of celebrations planned for Swansea and the whole of Wales in 2014 to mark 100 years since Thomas's birth in the city.
Mr Davies said a concert by Dylan in which he blended his music with some of Thomas's poetry would be "the icing on the cake" of a great year.
The two artists never met but Thomas was known for his rock star lifestyle, before there were rock stars.
Mr Davies has mentioned in the House of Commons that he had approached Bob Dylan about the concert, when Leader of the House Andrew Lansley said he would look forward to attending.
"Since then the campaign has gone viral with all the music websites and Twitter etc, with thousands of people calling for Bob Dylan to come to Swansea to do the concert," said Mr Davies.
Former Catatonia singer and BBC 6 Music broadcaster Cerys Matthews has retweeted messages about the campaign to her followers and The Alarm singer Mike Peters, who knows Bob Dylan's manager, has also got involved.
As well as approaching Sony Music, Mr Davies has also met the chief executive of UK Trade and Investment about the centenary concert.
"They said they are willing to approach Bob Dylan's management about this," he said.
"Dylan Thomas is someone we are proud of in Swansea, and right across Wales.
"The idea is that Bob Dylan might come and incorporate Dylan Thomas' work into his blend of music is exciting."
According to The Times newspaper, the singer has given various accounts of how he adopted the name Dylan in place of his birth name, Robert Zimmerman. In his autobiography, Bob Dylan refers to the Welshman's poetry, but claimed the choice was largely coincidental.
Mr Davies said the singer-songwriter had already paid tribute to John Lennon in a track on his 2012 album Tempest, and it would not be too much to expect him to use "to bring something of Dylan Thomas to life".
The concert, if it does happen, will be "a fantastic show that would have a worldwide audience," he added.
"If it comes off, the welcome in the hillside will be blowing a gale."