Dinosaurs: Carmarthenshire was Jurassic 'hotspot'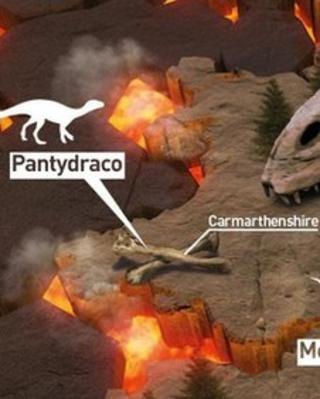 Carmarthenshire has been highlighted as a dinosaur hotspot in a new map detailing prehistoric finds.
The county has been identified as an area of interest by the Natural History Museum in relation to the remains of a Pantydraco discovered there.
The herbivore - whose name means 'Pant-y-ffynnon dragon' - lived in the Early Jurassic period in Wales.
The map was compiled from information of dinosaur finds over the last 336 years to accompany a TV programme.
Dr Paul Barrett, a merit reseacher in the museum's Department of Palaeontology, said: "I was asked to compile a map of dinosaur finds in the UK and most of them are in England but there are some very important ones in other places too, including Wales where we have some very early dinosaur specimens.
"It's an accident of geology that we don't have many rocks in Wales of the right age to preserve dinosaur fossils, but the ones that do gives us some of these very early dinosaurs which we don't find elsewhere."
Dr Barrett said the best known dinosaur from west Wales was the Pantydraco.
"This was a small plant-eating dinosaur, which would only have been a couple of metres long," he said.
"In fact we've mostly had material of an almost baby of this animal, the best preserved one is probably only about two-and-a-half feet long.
"So these are small bi-pedal plant eaters walking around on their hind legs."
There is also evidence of a couple of carnivores living in the same area, although those finds were confined to teeth.
Dr Barrett added that not much time has been spent searching for dinosaur remains in Wales primarily because a lot of the spots where they are found are were "relatively small and the rock is relatively unproductive".
"So whenever we do find something it's a relatively important find", he said.
"But we also have very nice dinosaur footprints in Wales as well which help fill in some of those blanks.
"They can be found on various foreshores in south Wales, so you can actually go out and see these little three-toed tracks in the rock.
"So little meat eating dinosaurs were running around probably about 200-odd million years ago."
Primeval: New World is broadcast on Watch, on Tuesdays at 21:00 GMT.