South Hook power station: New phase of consultation starts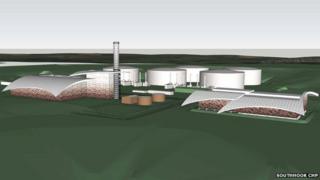 A new phase of consultation has started over a gas fired power station which could produce enough electricity to supply up to 900,000 homes.
Plans are for a 500MW combined heat and power plant next to the South Hook LNG terminal, near Milford Haven, inside Pembrokeshire Coast National Park.
The South Hook project is staging nine consultation events in and around Milford Haven over the next two weeks.
They started at Herbrandston Village Hall on Monday.
Qatar Petroleum International, Exxon Mobil and Total are behind the venture.
An application for the plant is expected to be submitted to the planning inspectorate in the spring, and the final decision will be made the energy and climate change secretary.
If the scheme is given the go-ahead it will take two years to build and will start producing energy in late 2016.
Environmental campaigners have called on the companies involved to use the most efficient technology available.
The South Hook terminal, the largest of its kind in Europe, opened in 2009 after six years of planning and construction.
RWe Npower has a 2,000MW gas-fired power station nearby in Pembroke.