Exercise in pregnancy study: Swansea University wants mums-to-be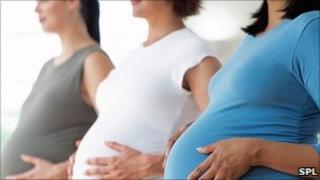 Women are being asked to take part in a research project to find out how regular exercise influences pregnancy.
Swansea University researchers will ask volunteers from across Wales to join one of two carefully planned group exercise programmes.
The university says there are no official evidence-based guidelines for mothers-to-be in the UK.
That can lead to conflicting advice and confusion, but in general exercise is thought to be beneficial in pregnancy.
It could help with management of pregnancy-induces diseases such as hypertension and diabetes.
This latest research at Swansea University's College of Engineering follows an initial study into the effects that a normal pregnancy has on women's cardiovascular function.
Women recruited now will have to undertake an initial health screening and then join in either a land-based aerobics or a pool-based aqua-aerobics programme. Their participation is paid for by the study.
Dr Mike Lewis, who leads the Expect (Exercise in Pregnancy Evaluative Controlled Trial) research team, said: "Although water-based exercise is currently recommended for pregnant women, there is limited evidence that there is any difference in the physiological influences of land and water-based physical exercise.
"By comparing the two programmes we hope to shed light on this issue with a view to compiling more accurate information on exercise for pregnant women in the future."
Those taking part in the study will be asked to go to the antenatal suite at Singleton Hospital in Swansea once during each trimester of their pregnancy and again three months after their baby is born.
Nervous system
At each visit volunteers will be monitored as they undertake a series of physical activities such as light stepping exercise.
To be eligible, the mothers-to-be must have no history of cardiovascular disease, their pregnancy must not be consultant-led, and they must be under a certain BMI.
Simon Emery, obstetrics and gynaecology consultant at Singleton Hospital, said: "The study aims to examine the influence of exercise on the mother's heart, blood vessels and nervous system during normal pregnancy.
"We hope that with the help of our volunteers we will gain a clearer insight into the health improvements of regular physical exercise during pregnancy and its contribution to improving antenatal care."
Two PhD students, funded by Welsh government health studentships, are working on the exercise in pregnancy project.
One, Lindsay D'Silva, said: "Around 40 mums have already taken part in the first stage of this work. Their response to our research has been fantastic. They have all been extremely enthusiastic about taking part because they recognise the potential benefits for mums-to-be."
Rhiannon Davies, who will be working on the study over the next two years, said: "I'm excited about the next stage of this important work as it should lead to first real physiological evidence of the benefits of different types of exercise in pregnancy."