Swansea horse and drugs project wins nearly £795k lottery funding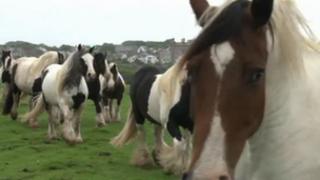 A charity plans to use a lottery grant of nearly £795,000 for a centre to tackle the dual problems of horse abandonment and drug abuse in Swansea.
Cyrenians Cymru says abandoned horses and heroin addict numbers have risen dramatically over the last three years.
The Community Horse and Pony Scheme (Chaps) hopes drug addicts will engage with animals to aid their recovery.
It is said to be the first in Wales but will be modelled on similar projects in Ireland and Sweden, the charity says.
Cyrenians Cymru has been involved in social projects for 40 years but the equine centre is a new development, says Polly Stone, the charity's marketing and partnerships co-ordinator.
Firstly, she said it is a response to the number of abandoned horses in Swansea, which has almost trebled from 58 taken into pounds in 2010, to 150 in 2012.
"The animals can be brought so cheaply now - a horse can fetch under £5 as people exchange them for drug money," she said.
"We want to change people's ideas about horse ownership and this will be an innovative way of educating and engaging people."
It is also seen as a way of using the animals to help drug abusers engage with them and address some of their emotional problems.
The charity claims studies suggest being around horses changes behaviour patterns and addicts become more focussed and less likely to drop out of rehabilitation programmes.
The equine centre will particularly help heroin addicts, whose numbers Ms Stone said had increased about 180% in Swansea in the last three years - to around 6,000.
"Chaps is an innovative way of engaging with people who may not currently access vital services," Ms Stone explained.
She said long-term goals included setting up a community-led stables and riding centre, on a site still to be decided in Swansea, which would also provide training and other activities. People on rehabilitation programmes will help at the stables as part of their recovery process.
The first stage of Chaps will open within a year.