Ammanford nightclub supported by town councillors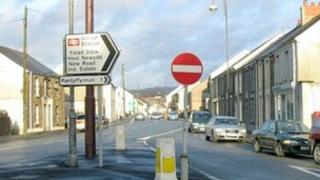 Town councillors in Ammanford have supported the opening of a nightclub in the town despite a decision by the county council to refuse permission.
Carmarthenshire turned down an application to convert the snooker hall on Wind Street to a nightclub.
They voted against the change of use in November citing noise and disturbance concerns for local residents at unsociable hours
But applicant David James has appealed against the refusal.
And at a town council meeting on Monday, local representatives broadly gave their backing to the plan.
Speaking to BBC Wales on Wednesday, councillor Martin Jones said: "Most people wanted it open but there are conditions: that it is policed correctly when the people are coming out of the nightclub; that they don't linger around the streets and they are shipped home pretty quickly."
He said given these conditions "90% of us are for it".
"It just needs something to bring a bit of life into Ammanford. We have given it the thumbs up."
Mr Jones said one pub had closed in the town and another was expected to shut soon.
He added: "If there is a nightclub it will attract people into the town and stay in the pub for an hour or two then go on to the nightclub.
"The food places will also benefit."
The appeal process started on 2 January.