Aberpergwm mine, Glynneath: Shutdown causes 290 job losses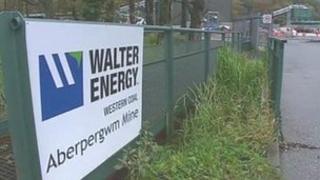 Nearly 300 mining jobs have been lost at the Aberpergwm coal mine near Neath after the company announced a shutdown.
Production ended days before Christmas, which union representatives said had been bad timing for the workforce.
American firm Walter Energy announced in October it was consulting on a shutdown process, blaming poor economic conditions and a fall in demand.
The company is maintaining some development work at the colliery and around 20 staff will remain.
Wayne Thomas, general secretary of the south Wales NUM, said the future for the mine was up in the air, but suggested it was possible that production could restart.
He said one factor in the shutdown had been the price of coal, which had dropped by 25% in recent months.
According to Mr Thomas, 70 staff were going to be affected initially, but that figure changed to 290, who were due to be laid off in January.
He added: "Then on 21st December suddenly everybody lost their jobs prior to Christmas. It was very bad timing.
"Fifty per cent of the workforce is over 50. In this day and age you have to multiskill and in this area it's extremely difficult to get a job."
He added: "In fairness to the company, nobody wanted to lay anybody off." He said they had taken steps to keep a number of apprentices on for an extra six months in order to allow them to complete their training.
He also thought it was likely the mine would reopen at some point in the future, explaining: "Common sense would tell you if they are operating a care and maintenance [programme] they are securing the mine for future operations.
"We are confident that they will restart operations there."
Aberpergwm first opened in the late 19th Century, and at its height during the 1930s employed more than 1,500.
It closed in 1985 but reopened a year later under private ownership.
The colliery is believed to have reserves totalling 6.8m tonnes.
Neath AM Gwenda Thomas said: "The loss of highly skilled and well-paid jobs is a terrible blow for the miners in Aberpergwm colliery and the surrounding area of Glynneath.
"The loss of these posts will have a tangible effect on the local economy.
"The future of the mining industry rests with the apprentices who were working at Aberpergwm, and I and my office have worked closely with the Welsh Government, Walter Energy and the National Union of Mineworkers to safeguard the future of these workers."
Walter Energy has been approached for a comment.