Ystalyfera landslip: Safety work reveals continued risks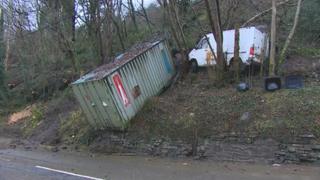 Safety work has been carried out a landslip that hit the Swansea Valley before Christmas but the risk of further slips remains, says a council.
The work at Ystalyfera includes debris being cleared from electricity cables.
Neath Port Talbot council said it was still advising residents of eight households to stay away due to the risks of further slippage.
Environment director John Flower said: "We are doing everything we can but safety is of paramount importance."
Thousands of tonnes of rock, soil and trees struck the Pantteg area of the former mining village on 22 December.
A road remains blocked with debris up to four feet thick while uprooted trees were thrown against a chapel vestry.
Around 150 villagers met on Thursday and formed a residents association to put pressure on the local authority to ensure a speedy start to the clear up.
They were told clearing and repairs by a specialist engineering firm will not begin until a risk report is finalised.
The council said a shipping container that was left balancing precariously on spoil from a mud slide has since been moved on to the road.
Mr Flower said: "We would like to thank not only those residents affected but also the wider community for their understanding and patience.
"We would like to reassure everyone that we are doing everything we can but safety is of paramount importance.
"Therefore all the work must be carried out with extreme caution and in a controlled and safe manner."
The council it was again appealing for the public to to stay away from the area of the landslide.