Ystalyfera landslip: No clear-up until report on risks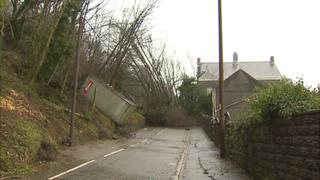 People in a Swansea Valley village hit by a landslip just before Christmas have been told a major clear-up will not begin until the end of January.
Thousands of tonnes of rock, soil and trees struck Pantteg, Ystalyfera, Neath Port Talbot, on 22 December.
Around 150 villagers met on Thursday and formed a residents association to put pressure on the local authority.
They were told clearing and repairs by a specialist engineering firm will not begin until a risk report is finalised.
Neath Port Talbot council is still advising eight households in the former mining village to stay away from home.
It warns continued rain over Christmas and new year means caution is needed to ensure any work does not make the slip worse.
The new residents association formed on Thursday evening plans to put pressure on Neath Port Talbot council to carry out necessary work to clear the area as soon as possible.
Community councillor Tony Randall said: "It's time we stood together because if we stand alone we are not going to go anywhere."
Coun Rosalyn Davies, who represents the Godre'r Graig area on Neath Port Talbot council, said the association will put pressure on the council to do the necessary work, adding the council will also have to report back to the association.
Residents were told that a specialist engineering firm has been contracted to carry out clearing and repair work.
Initial work will begin in the next few days but no clearing will be carried out until a report has been compiled.
This is expected to be completed by the end of the month.
Earlier John Flower, the Neath Port Talbot council's director of environment, said the local authority has been assessing the effects of the continued rain on the condition of the landslide.
He said: "This is a very delicate and complicated situation.
"We have to be extremely careful that any clearance work does not make the situation worse.
"There are thousands of tonnes of rock, debris and vegetation which have moved on this hillside so everything we do has to be carefully assessed and planned."
He said the council had been in touch with the owner of a storage container which slid down a hillside to ensure its removal.
Following the slip, the council advised 13 households to vacate their premises, with some spending a night at the local pub while they made alternative arrangements.
That figure is now down to 10, although two are empty.
Mr Flower said: "Our advice continues to be that the eight household should not return to their homes.
"We've been contacting them and it's important we stay in touch so we can keep them updated on any progress and to assess their ongoing needs."
The local authority said it had carried out clearance work in the area before Christmas following issues raised by some residents.
The ground where this work was carried out, including the electricity supply, was not affected by the recent landslide, it said.