Swansea City: Premier League effect on local economy revealed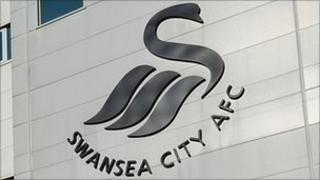 The impact of Swansea City's first season in the Premier League on the local economy will be unveiled later in a new study.
The Swans became the first Welsh club to reach the Premier League in 2011.
But the city has also been reaping the rewards off the pitch with hoteliers, pubs and the city council reporting increased activity since 2011.
Business leaders said work was underway to encourage visiting fans to return to the area with families.
Detailed results of an economic impact study will be revealed at 11:00 GMT.
Having started last season as one of the favourites for relegation, the Swans shocked many pundits by beating the eventual Premier League champions Manchester City and Arsenal, and drawing with Chelsea and Tottenham Hotspur.
They finished last season comfortably in 11th place.
Swansea are currently lying ninth in the Premier League this season, and are preparing to play Arsenal in the FA Cup on Sunday.
It is looking bright for the city off the pitch too.
In May last year, Swansea council said activity on its Visit Swansea Bay website was up 44% on the previous year.
Hotel consultancy service PKF said hotel occupancy had risen 9% between September 2011 and March 2012, on the previous year, outperforming Wales and the rest of the UK.
The director of South Wales Chamber of Commerce Graham Morgan said towns within a 50 to 100-mile radius of Swansea had also benefited from the football club's success.
"On average there's 2,000 to 3,000 visiting fans for every home game and they stay in the city or in the vicinity," he said.
"Work is starting to try to get these people to come back to the city at a later stage with their families, but this is at an early stage.
'Added exposure'
"The Premier League is also watched around the world, so Swansea is hitting the international stage too.
"It is said there are in excess of 20 cameras for every home game and each game has the potential to be watched by a billion people around the world."
But some people are not surprised the city is benefiting from the club's elevation to the top flight.
Phil Sumbler, chairman of Swansea City Supporters' Trust, said: "Swansea playing in the Premier League is bound to bring the city added exposure.
"The city and the club's profile has been raised by Swansea getting into the Premier League and that's bound to have economic benefits."