Llanelli break with Carmarthenshire council rejected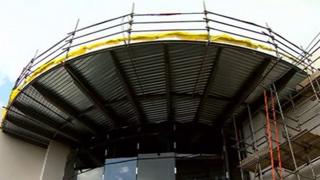 An attempt by Llanelli to break away from Carmarthenshire council amid claims it is being neglected has been rejected by town councillors.
The town council met on Wednesday night to discuss the matter.
Mayor Winston Lemon had said Llanelli desperately needed new jobs and the town centre was a "disgrace".
Carmarthenshire council said the plan was a "non-starter" and the Welsh government said it had no intention to separate Llanelli from Carmarthenshire.
Ahead of Wednesday night's meeting Mr Lemon outlined his concerns.
He questioned the way public money was being spent by Carmarthenshire council and said there was a need to regain control of decision making.
He said the town centre was a disgrace and much needed to be done to revive it.
Research commissioned by BBC Wales last year suggested that Llanelli had the highest shop vacancy rate (27.9%) in Wales among the major towns and cities.
The town had also seen the largest vacancy rise over the past three years.
Mr Lemon said there was plenty of public support for Llanelli to leave Carmarthenshire council, although any final decision would not be made for some time.
Carmarthenshire council disputed the claims made by Mr Lemon and said millions of pounds had been invested in the town recently.
Examples put forward by the council include the new £25m Eastgate development which features offices, shops and a cinema, and the new £15m Furnace Theatre.
The council said millions had also been spent on new schools, council house improvements and leisure developments such as Parc y Scarlets and Ffos Las racecourse.