Ray Gravell's final months to be aired in BBC documentary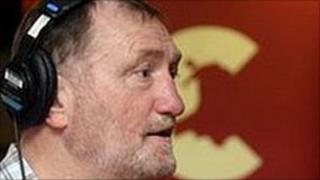 Footage of the final months of Welsh rugby legend Ray Gravell's life is to be broadcast just over five years after he died.
In June 2007 the Llanelli and Wales centre gave his permission for cameras to follow his rehabilitation after a diabetes-related leg amputation.
But just four months later he died unexpectedly of a heart attack whilst on holiday in Spain.
The BBC put the documentary on hold but it will now be shown on S4C on Tuesday.
Former Llanelli, Wales and British Lions great Gravell, from Mynydd-y-Garreg, Carmarthenshire, died at the age of 56.
The shock and grief at the father-of-two's loss meant that the project was abandoned indefinitely.
But now his widow, Mari Gravell, says it is time for her husband's memory to make a difference to other sufferers of diabetes.
"It was a terribly difficult time," Mrs Gravell recalled.
"But it was something that Ray wanted to do - it was therapeutic for him - he was doing something positive in a difficult situation.
"Of course there were times when he was very low. But somehow, talking about things made him feel better.
"For the whole family of course it was a difficult time, but we were lucky that we got along well with the film crew, and we are glad that we did it now."
'Active social life'
The film - to be broadcast at 20:25 GMT on New Year's Day - follows Gravell as he battles the mental and physical challenges of losing a leg, in typically combative style.
"Grav" had his own inimitable persona and became a popular radio and TV presenter at BBC Wales.
But Dai Williams, president of Diabetes UK Cymru, explains that his experiences are far from unique.
"Many people with an active social life like Grav could confuse early symptoms of diabetes with just over-doing it a bit over Christmas," he said.
"But if the symptoms persist, then you should go and see your GP. Needing to go to the toilet more frequently than you used to, feeling constantly thirsty, lethargy and blurred vision are all signs that you might be suffering from type 2 diabetes.
"If you address it early enough, then diabetes can be managed through diet and medication, but undiagnosed, it can rapidly run out of control and lead to blindness, amputations, and even death.
"That's why we're so grateful to Grav's family for allowing his memory and public profile to potentially save many other people."
'Great shock'
The programme charts the lows of Gravell's struggle to get to grips with walking on a temporary false leg, to his joy when he manages to master enough control over the artificial limb to resume driving and regain his independence.
Poignantly, it also joins him on a September 2007 weekend away in Borth, Ceredigion, with close friends John Hefin and his wife Elin, when he expresses his optimism about the future, just weeks before his death.
The programme was originally due to air five years ago, and its producer Gwenan Pennant Jones says Gravell's sudden passing came as an unexpected body-blow to everyone involved in the film.
"It was a great shock to hear of Ray's death," she said.
"I'd come to know him well in a short period of time and become friends over the six months I spent with him and the family.
"It was a privilege to see his courage and how he was determined to beat the illness and continue with every element of his life."
But while BBC Wales put the documentary on hold indefinitely as Gravell's family grieved, his wife says now that it is the time to allow his memory to do some good.
"We had such a shock, the time we went to the hospital for the artificial leg," said Mrs Gravell.
"There were so many people having the same sort of treatment, and so many local people too. Diabetes seems to be on the increase, and hitting a lot of middle-aged people.
"I think people are starting to think more about the impact of the disease - there's more publicity around about it now.
"When Ray had the illness we never thought it would lead to him losing his leg. We need to raise awareness.
"That's why it's right to broadcast the programme now. That's what we need to get across."
Grav: 'Sdim Cywilydd Mewn Llefain is on S4C on Tuesday, 1 January at 20:25 GMT - the programme will be broadcast in Welsh with English subtitles available via the text button