Ystalyfera landslip: Families away from home until new year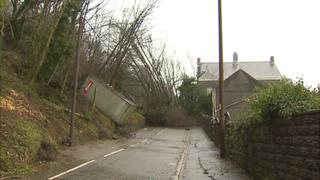 Families evacuated from their homes after a landslip in the upper Swansea valley will not be able to return until the new year, council officials say.
Thirteen families were advised to leave their homes three days before Christmas after thousands of tonnes of rock, soil and trees fell down a hillside at Ystalyfera.
Neath Port Talbot council said bad weather is hampering work and the site was still too unsafe to clear rubble.
It said it will assess the situation.
A council spokesperson said: "The authority has been monitoring the situation at Pantteg daily, and will continue to do so New Year's Eve and New Year's Day, to assess any further ground movements."
John Flower, the council's director of environment, said the weather had not been helping the situation.
"Since Saturday the road drainage system has been cleaned out and electricity to the surrounding houses has been reinstated by Western Power Distribution," he said.
"Currently the ground is unstable so we have to ensure that the area is safe before engineers can enter the area. The welfare of residents and our staff remains a key priority."
The council said specialist consultants will carry out a survey on the ground early in the new year.
Mr Flower said the area had been hit by a number of landslides in the past.
"The ground on the mountainside at Pantteg has been moving for more than 60 years," he said.
"However, the recent bad weather has reactivated landslide activity."
Officials described last week's landslip as a "dramatic movement" that has seen waterlogged soil come to rest against properties and over around 200m of road.
A shipping container and a white van came to rest hanging over the road, held up by trees.
Bus routes have been diverted for the foreseeable future and letters are going out to families informing them of school transport arrangements in time for the start of the new term.