Swansea v Manchester United: Flare set off inside Liberty Stadium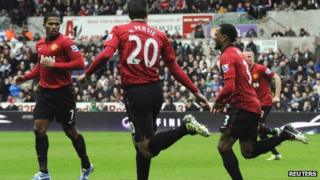 Police say it was fortunate nobody was hurt when a flare was set off during Swansea City's Premier League game at home to Manchester United.
Officers are appealing for witnesses to come forward.
The flare, discharged from supporters in the away end after United scored, hit the stand roof and bounced back down into the crowd, said South Wales Police.
Detectives called it a "very foolish act" and "irresponsible".
Police said the flare fortunately missed spectators and nobody was hurt.
The 1-1 draw between the two teams has already hit the headlines after Sir Alex Ferguson said United striker Robin van Persie was "lucky to be alive" after being hit by a ball kicked by Swansea's Ashley Williams.
Det Insp Jeff Handley, of South Wales Police, said: "We are proud of the fact that the Liberty Stadium promotes a family atmosphere and welcomes spectators from all over the UK.
"This was a very foolish act by an irresponsible individual.
"We are fortunate that nobody was seriously hurt today.
"It's important that anybody with information contacts us so that we can identify the individual and let him or her explain their actions to a court."
The incident happened at about 13:50 GMT on Sunday, about 15 minutes into the game, after United took the lead.
Detectives are appealing for anyone with information to contact South Wales Police 01656 655555 or 101.