Swansea M4 crash: Neath man, 44, identified as victim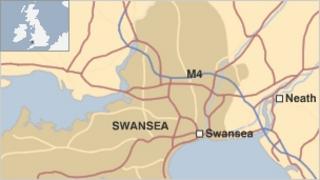 Police are continuing to appeal for witnesses after a pedestrian was killed on the M4 near Swansea on Wednesday.
South Wales Police say the dead man has now been identified as a 44-year-old from the Neath area.
He died after being struck by a white 52-seat coach on the westbound carriageway.
The incident happened between junctions 45 and 46 at 00:30 GMT. Police asked witnesses to the collision or those who may have seen the man to come forward.
Anyone with information is asked to contact the roads policing unit on 101 or Crimestoppers on 0800 555111.