Bedd Morris: Bronze Age stone back after car crash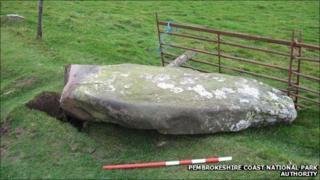 A Bronze Age standing stone that was knocked down by a reversing car last year has been returned to its original position in Pembrokeshire.
The Bedd Morris stone on Dinas Mountain near Newport has been a landmark for around 3,500 years.
Standing at 6ft (1.8m) it is thought the vehicle accidentally knocked over the stone, crushing a fence.
The stone was moved to a secret location and following conservation work it has been put back in place.
A Scheduled Ancient Monument and weighing more than two tonnes, it marks the parish boundary between Newport and Pontfaen in the Pembrokeshire Coast National Park.
The Bedd Morris stone was taken away, while national park archaeologist Pete Crane and Professor Geoff Wainwright, in partnership with Cadw, excavated its location.
The experts estimated it had been in place around 3,500 years ago, probably for ceremonial or ritual purposes.
"It has now been conserved and repaired, and was replaced last week by the authority into its original position," said the national park's culture and heritage manager Phil Bennett.
"We are all delighted that the stone is back securely in its original setting.
"It's a hugely important part of the heritage of the national park landscape and the people of Newport will be pleased to see this iconic standing stone back where it belongs."
National park councillor Paul Harries said Bedd Morris was an important part of Newport's folklore, with two well-known legends linking Morus, a notorious robber to the stone.
He was allegedly hanged for his crimes and buried underneath it.