Milford Haven Port: Profit to halve as LNG demand falls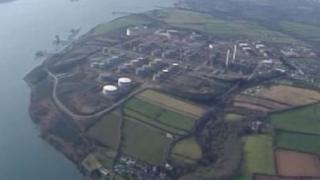 Profits at Wales' largest port are expected to fall by half this year because of a drop in UK demand for liquefied natural gas (LNG).
Milford Haven Port in Pembrokeshire will make about £4m in operating profit before tax, the port authority said.
It said LNG's price had risen due to high demand in Asia after nuclear power stations in Japan closed because of the earthquake and tsunami last year.
The authority also blamed low coal prices and last year's mild winter.
Milford Haven has two terminals - South Hook and Dragon LNG - which have received giant tankers carrying LNG from the Middle East since 2009.
The terminals are capable of supplying about 30% of the UK's gas requirements.
But the port authority said "significantly lower volumes of LNG" had entered the port during the first nine months of the year.
"The drop in demand for LNG was influenced by a number of factors," it said.
"Gas prices increased due to high prices for LNG in Asia, partly as a result of a major increase in LNG demand brought about by the closure of nuclear power stations in Japan following the Fukushima incident in March 2011.
Rising pension costs
"Low prices for imported coal competed with gas for electricity generation, and last year's mild winter lowered overall demand for energy in the UK."
It added that the lower imports of LNG to the UK were not expected to change significantly in 2013 and 2014.
In addition, rising pension costs could lead to profits falling again next year, the authority warned.
It said it was now looking at other ways to make money to ensure that it remained profitable, including continuing to develop the dock to encourage tourism along the Welsh coastline.
"The fluctuation of LNG volumes into the port continues to emphasise the need to find alternative deep sea trades," said Alan Doc, chief executive of the port.
"We look forward to working closely with the Haven Enterprise Zone, the Welsh government, Pembrokeshire County Council and others on this key need over the forthcoming year."
LNG is a form of natural gas which has been converted to liquid form by cooling it to a temperature of -160°C.
In its liquid form, it occupies much less space than gas, making it easier and more cost effective to transport.
The LNG is turned back into gas at the Milford Haven terminals and pumped into the UK network along a specially built pipeline running from Milford to Gloucestershire.