Mobile phone £6,875 bill for decorator Chris Wilson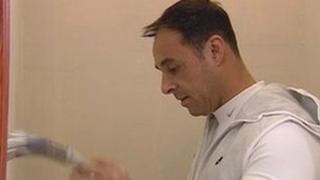 A painter and decorator says his business is threatened after receiving a mobile phone bill of nearly £7,000.
Orange claims that Chris Wilson, from Milford Haven, Pembrokeshire, ran up the data charges downloading films and TV programmes.
He denies the downloads, but says even if he did the charges are inflated.
Telecoms regulator Ofcom has warned that so-called "bill shock" is set to rise with more people owning internet-friendly smart phones.
"I rung up to pay my bill and the lady said she wanted to warn me that the month's bill was going to be slightly higher than normal," he told BBC Wales' X-Ray programme.
"Then she told me how much it was going to be - £6,875. I nearly had a heart attack.
"The only thing I did differently to any other month was I downloaded a TV programme which was 43 minutes long.
"Now, if that is going to cost £6,000, it would be cheaper for me to fly out and watch the programme being filmed."
He said he could not afford to pay the bill and Orange has threatened to cut him off.
"My phone is essential to my business so that is going to have a knock-on effect. Paying a bill that much, it could potentially put my business under," he said.
More cases
His case is not an isolated one. Clare Harrison, from nearby Haverfordwest was billed more than £5,000 in July this year for data downloads to her smart phone.
Mrs Harrison, who also has a business contract, told X-Ray: "It does seem a staggering amount of money.
"I just worry that... so many people could be out there doing this and end up with this monstrous bill and just from using the phone the way the manufacturers are suggesting."
Orange accepted that she did not knowingly download the data and said there may have been a problem with the settings on her phone. But she has still had to pay nearly £500 of the bill.
In Mr Wilson's case Orange has agreed to reduce his bill by £2,500, but that still leaves him with a bill of more than £4,000.
He has been billed for downloading more than 9,000 megabytes of data, despite having a monthly download allowance on his account of only 750 megabytes.
He denies having using that much data, but that even if he had the charges were far too much.
The company advertises data download for as little as £3.25 per 1,000 megabytes. Mr Wilson was charged more than £700 per 1,000 megabytes.
Orange, which declined to explain why its data charges were so high, said in a statement: "Mr Wilson's bill resulted from very heavy and sustained data usage throughout the month, such as streaming films, TV programmes and podcasts on his business account.
"We have sent him an itemised bill with the exact dates, times and the amount of data used.
"Mr Wilson had previously incurred higher than normal data charges, in April this year.
"We agreed to credit a full refund as a gesture of goodwill and, at the same time, he was fully advised why he had incurred the charges and ways to monitor his data usage to avoid this in the future.
"We have acted responsibly and reasonably in investigating this case and offered Mr Wilson a significant and substantial reduction, which he has refused."
X-Ray is on BBC One Wales at 19:30 GMT on Monday.