Tom Daley tweet: Port Talbot footballer Daniel Thomas fined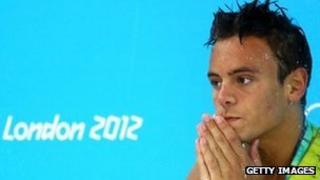 A footballer arrested after an abusive Twitter message was posted about Olympic diver Tom Daley has been suspended for one match and fined £500.
A Football Association of Wales (FAW) disciplinary panel imposed the punishment on Port Talbot Town FC midfielder Daniel Thomas, 28.
The club had earlier suspended him for one match over the homophobic message.
Port Talbot Town said it accepted the decision of the FAW and would not comment further.
In September the director of public prosecutions, Keir Starmer QC, said while the tweet may be offensive it was not considered a criminal offence and the message was not intended for Daley.
The player was arrested and released on bail after the message referring to Daley, 18, and fellow Olympic diver Peter Waterfield was posted on the social networking site.
A Football Association of Wales (FAW) disciplinary hearing concluded that the message, posted on 30 July, was likely to bring the game into disrepute.
A Port Talbot Town FC spokesman said: "The club accepts what the FAW has said. We don't have any further comment to make."
At the time, the club said it and Thomas apologised "unreservedly" and in no way condoned the views in the tweet.
An FAW spokesman added: "In recent years, social media and networking websites such as Facebook and Twitter have become part of our everyday lives.
"Overall, the use of social networking websites can be seen to be a positive influence on Welsh football."