Anna Ryder Richardson's company fined £70,000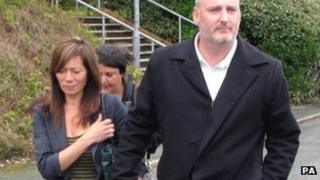 TV presenter Anna Ryder Richardson's company has been fined £70,000 for failing to protect employees and visitors.
She and her husband Colin MacDougal own Manor House Wildlife Park near Tenby in West Wales.
MacDougal was fined a further £4,000 for failing to properly manage the risk of falling trees at the venue.
Swansea Crown Court heard that health and safety assessments and training were inadequate.
A young mother and her child was pinned by a beech tree at the zoo two years ago.
Gruff Davies-Hughes suffered serious head injuries at the attraction and spent three days in intensive care after being airlifted to Morriston Hospital, Swansea.
His mother Emma Davies-Hughes suffered head injuries and fractures to her leg, pelvis and arm.
Within 24 hours of the incident, five trees in Manor House's wallaby enclosure, where the incident happened, were deemed to be a risk and were cut down.
The charges do not relate to the injuries suffered by Gruff Davies-Hughes and his mother Emma when the tree fell on them.
But the Judge said the defendants had fallen significantly below the required standards of safety.
A tree survey updated when the couple bought the zoo in 2008 had not been properly implemented and health and safety assessments and training were inadequate.
The park was fined £70,000 for health and safety breaches, and MacDougall £4,000 after he admitted two identical breaches.
Combined with costs they will have to pay £111,000.
Lawyers acting for Manor House said the park became Anna Ryder Richardson and her husband's life work, and the couple were held in high zoological regard.
After the hearing, Pembrokeshire council said it welcomed the sentence.
It said it "reflected the fact that Manor House Wildlife Park and Colin MacDougall have failed, over a number of years, to manage the risks posed to the paying public and employees at the park".
"Fundamental health and safety requirements were breached in that there was a failure to assess and actively manage the tree population to ensure the park was safe," the council said.
"In turn, these failures created the environment in which a 25m beech tree fell, trapping and seriously injuring a young child, Gruff, and his mother, Emma Davies-Hughes."
Speaking outside the court, MacDougall said: "The pleas of guilt reflect two things.
"Firstly that given the demands of health and safety law our tree management system could and should have been better.
"Second, the prosecution and the court has accepted that our tree management system between 2008 and 2010 played no part in the accident in that no pre-accident inspection would have alerted me or any of my staff to the risk of failure of the tree which fell on Gruff, and his mother, without warning."