Royal Mail parcel centre opens in Swansea to meet online demand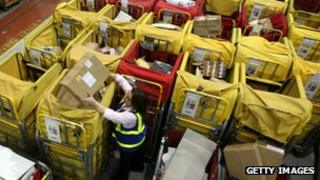 The increasing number of people shopping online has led Royal Mail to open a parcel sorting centre near Swansea over Christmas.
It is being officially opened on Friday and is one of eight such centres being opened by Royal Mail across the UK.
The centre is likely to handle over 289,000 parcels on the busiest days.
Online retailer Amazon last month announced it was recruiting more than 1,000 seasonal workers at its Swansea distribution centre.
The new sorting centre is being opened on the Baglan Industrial Estate.
Royal Mail said the depots were to "handle the major rise in the volume of parcels due to the ongoing increase in the number of people shopping online".
Mark Higson, Royal Mail's managing director of operations and modernisation, said: "Royal Mail has invested in eight dedicated parcel sort centres to increase our scale and improve our flexibility during this important time of year for our customers."
The other sorting centres are in Edinburgh, Glasgow, Bolton, Tamworth, Peterborough, Swindon and Greenford in London.
They were also due to open this week.