Swansea council's £1 shop at Llansamlet recycling centre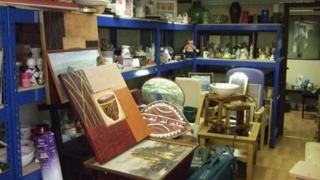 A council has opened a store at one of its landfill sites to sell items that people are about to throw away.
Goods on the shelves at The Corner Shop at Swansea's Llansamlet recycling centre include a Jason and Kylie mug and Bully, the mascot from 1980s game show Bullseye.
Every item is sold for £1 with proceeds going to educational charities.
A spokesman said: "This is another way to reduce the amount going in to landfill."
Workers at the tip ask people bringing stuff to dump if they have anything which is in good enough condition to pass on.
The goods collected so far range from kitchen equipment and furniture to musical instruments and ornaments as well as cuddly toys.
Swansea council recycling officer Trish Flint said: "There has been so much material coming into the shop that we have already had to add another unit to hold furniture items only.
"Stock changes daily but everything from musical instruments, to tables, toys, crockery and patio furniture and also some brand new items are available."
Cash raised from the sales go towards children's educational projects run by the council's recycling team.
'Strict targets'
The local authority said the on-site retail outlet is another way to address the pressure on its landfill targets.
Swansea tipped a total of 31,186 tonnes in landfill in 2011/12, below its landfill allowance of 42,858 tonnes.
A spokesman said the targets were getting more difficult each year and the council expected the landfill allowance to continue reducing.
Cabinet member June Burtonshaw said: "We need to continue to recycle more of our household waste every year so we can meet these strict targets.
"The Corner Shop is an excellent example of how we as a council can develop innovative ways to reduce the amount of waste sent to landfill."