Ranger Michael Maguire inquest: Shooting in 'wrong direction'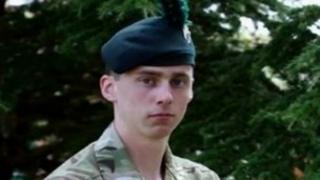 An inquest on a soldier who was killed while on a training exercise in Pembrokeshire has heard the soldiers involved were firing in the wrong direction.
Ranger Michael Maguire, 21, was hit in the head by a stray bullet from 1km away at the Castlemartin range while training with the Shropshire-based 1st Battalion, The Royal Irish Regiment.
Police and the Health and Safety Executive are still investigating.
The inquest in Cardiff continues.
The hearing was told that Ranger Maguire was waiting in a field when the live firing exercise was held 1km away.
Capt Gary Palmer, of the Infantry Battle School based in Brecon, Powys, told the inquest it was believed Ranger Maguire was killed by a shot fired from a General Purpose Machine Gun (GPMG) by a fellow soldier.
Capt Palmer said: "A section of eight soldiers were taking part in a live firing assault on a series of static and pop-up targets.
"Michael was standing in an admin area one kilometre to the north where men eat their lunch and pack their gear."
Capt Palmer told the inquest soldiers were firing covering shots during a military exercise and then were switched to a new target on the range.
He said: "One round travelled 1km past the target and it hit Michael. We think the soldier who fired the fatal shot fired a burst from a GPMG.
'Dangerous position'
"When the soldier switched they were firing in a dangerous direction.
"The targets should have been to the west and not to the north. It was in a dangerous position, " said Capt Palmer.
The inquest was told there had been three previous attacks made on the same targets on the day Ranger Maguire was killed.
After his death, his company commander Maj Richard Bell said: "He was one of our very best, his loss has devastated everyone who knew him.
"Michael was always going to stand out from the crowd, not only because he stood a towering 6ft 7in tall, but because of his vastly cheerful outlook on life, natural charisma and irrepressible good humour.
"All of this ensured that he was extremely popular throughout the company and his loss is keenly felt."
Ranger Maguire joined the 1st Battalion, The Royal Irish Regiment on 10 May 2010 and was deployed to Afghanistan four months later.
He was known to his army friends as High Tower because of his height.
Ranger Maguire went to school at St Goban's College, near Bantry, in County Cork, Ireland.
The Castlemartin Army Training Area was established in 1939 and covers 5900 in South Pembrokeshire.