Dylan Thomas: Do Not Go Gentle Festival celebrates roots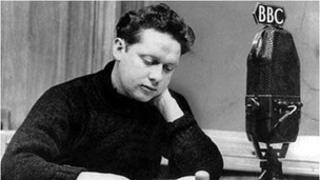 A new festival celebrating Dylan Thomas is going back to the place where the poet was born.
The Uplands area of Swansea and even the house where Thomas was born will be the focus for The Do Not Go Gentle festival this weekend.
Organiser Pierre Davies said the 2014 Dylan centenary and the desire to create the kind of festival Thomas would have liked were inspirations.
Poet Rachel Trezise and actress Helen Griffin are among those taking part.
Irish author Jackie Hayden will be reading from his book about the poet at 5 Cwmdonkin Drive - the house where Thomas was born and wrote his earlier poems.
Musician Mr Davies said he was determined to get his home city of Swansea on the festival map.
"I was frustrated with Swansea," he said.
"It seemed to me that a lot of artists are ignoring it. Everything has to be in Cardiff. I just think there's a bit of an imbalance with Cardiff beating Swansea at festivals at the moment."
Mr Davies also said that he believed the city should be the setting to celebrate Thomas, whose later years living and working at The Boathouse in Laugharne, Carmarthenshire are well-documented.
"Uplands is a great area with a lot of bars, cafes and students. We should celebrate Dylan in the kind of places he would have liked to visit."
Revive
The festival - which takes its name from one of Thomas's best known poems - will bring together an eclectic mix of literature, music, comedy and visual art. About 30 events will take place in a handful of venues.
Among others performing at the two-day festival will be the Dunvant Male choir, poets Rhian Edwards and Mab Jones, and folk singer Julie Murphy.
Mr Davies said he had also managed to persuade a family friend, Bafta Cymru-winning actress Helen Griffin, to revive her one woman show Caitlin, based on the life of Thomas's Caitlin Macnamara, for the festival.
Up-and-coming Welsh acts Greta Isaac, Chailo Sim, Trwbador and The Gentle Good will also take to the stage.
The festival takes place three days before this year's Dylan Thomas prize winner is announced.
As well as a reading by the inaugural winner of the prize set up to encourage young writing, three of the short-listed writers for this year's award will also take part in the festival.