Police election: Dyfed-Powys candidates back helicopter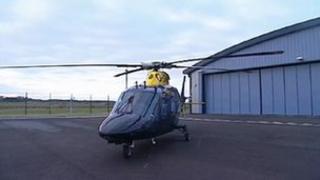 Both candidates in the Dyfed-Powys police commissioner election want the force to keep its helicopter.
The force, geographically the largest in England and Wales, faces losing the aircraft in 2014 under plans for a national service.
The Home Office says it will save forces £15m in total a year.
Labour's Christine Gwyther and Conservative Christopher Salmon say a plane would not be suitable even if a helicopter was to cost more.
The Association of Chief Police Officers (Acpo) said discussions on the issue were continuing.
Dyfed-Powys Police covers the counties of Carmarthenshire, Ceredigion, Pembrokeshire and Powys.
It has a population of over 488,000, covering a land mass of more than half of Wales, and has more than 350 miles of coastline.
The National Police Air Service, which came in to being last month, aims to offer 25 aircraft to the 43 police forces in England and Wales, with three more as back up.
The Home Office says this will put 97% of the population of the two countries within 20 minutes flying time. Bases are planned for Rhuddlan, Denbighshire, and Pembrey, Carmarthenshire.
Dyfed-Powys Police Authority has come out firmly against the proposals, saying the geography, distance and isolated communities across its four counties mean a helicopter is the only suitable air cover.
The police authority said the £1.5m spent on its base at Pembrey would be wasted if the helicopter was scrapped.
It has been estimated that keeping the helicopter will cost Dyfed-Powys Police around an additional £100,000 per year.
Christine Gwyther said: "It will cost more but we should be arguing, and maintaining that argument, that if there is national provision then it should suit the terrain that it covers.
"Clearly a fixed-wing alternative does not suit our terrain.
"There is a facility that works for us at the moment, so we shouldn't be looking to downgrade."
She added that it was "an irony" that a mix up on producing bilingual ballot papers, likely to cost the Home Office £350,000, was "identical" to the additional cost of running a helicopter.
Christopher Salmon said: "It will probably be a bit more expensive to keep a helicopter but the proposals do not really take account of what service is provided, and only really considers costs.
"The logic that's driving this is a bureaucrat's logic and an accountant's logic but it doesn't reflect the reality.
"It is a very strong cost-saving argument but it is just a cost-saving argument.
"I think we have to find the right way to look at it. There is still some room for discussion.
"I don't think what is proposed is the right answer. I will do all I can to ensure that we keep our helicopter cover."
An Acpo spokeswoman said: "The NPAS project team is continuing to work with Dyfed-Powys Police Authority in light of their concerns.
Elections
"A meeting is being arranged with the NPAS team including Chief Constable Alex Marshall and the Dyfed-Powys Police Force and authority to discuss these matters in detail.
"Therefore it would be inappropriate to comment further at this time."
Police commissioner elections are held on Thursday 15 November.
The police and crime commissioners (PCC) will replace police authorities in 41 areas in England and Wales and will be paid a salary between £65,000 and £100,000.
Commissioners will be responsible for appointing the chief constable of their force, setting out local policing priorities, reporting annually on progress, and setting out the force budget and community safety grants.