Caer Las Cymru: Trust plea on Llanelli ex-offenders' home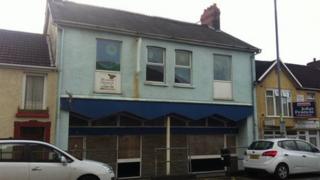 The head of a charity at the centre of a row over plans for an ex-offenders' home in Llanelli has asked worried residents: "Trust me".
Protests have been made over two locations in the Carmarthenshire town in which Caer Las Cymru has been interested in but not gone ahead.
Residents say those locations near the town centre and probation office already have a drug problem.
But Caer Las says it is contracted to provide a home in the area.
The charity's executive director, Jim Bird-Waddington, said he totally understood the "anxiety and fear" surrounding any such project.
"My plea to the community is if you are prepared to entertain the idea that this type of thing could be positive in this community, we will prove it to you when it opens.
"We want to get on with people.
"We don't expect them to accept 100% until we prove to them. We've got nothing to gain out of this - we don't make a profit out of this project.
"We are doing this because we believe in what we do. We want to do something that makes a resounding difference in challenging times."
Last year, plans to convert the vacant St Elli nursing home into a house for prison leavers met strong opposition.
About 300 people protested in Queen Victoria Road and some hauled sofas into the road in an attempt to block it.
This month residents hit out over plans to turn the former Moose Hall in nearby Old Castle Road before they were dropped as the property was put up for auction.
Mr Bird-Waddington said Caer Las won the contract from Carmarthenshire council to provide a home and the authority wants it in a central location.
He added that the charity had already been running three or four other properties in the town over the past decade.
'Not dangerous'
The latest project is about providing a centre for change offering medical intuition, training, pre-employment work with a professional on hand 24 hours a day.
Mr Bird-Waddington said the types of offenders were for "low level" crime such as theft and "absolutely not high-risk individuals".
"These are people who have been in prison on short term sentences and committed the more common types of crimes like theft," he added.
"These are not dangerous people. The client will have a history of offending and at risk to re-offend.
"There's a tsunami of people leaving prison. You probably need across Wales hundreds of projects like this to serve people out of prison and at risk of re-offending.
"This is a small project trying to do something for a small number of people."
Mr Bird-Waddington said any project would take about 18 months to set up and the charity wants to find a new location quickly.
"We've got to provide somewhere," he said. "I don't have any ill feelings for the community, I feel sorry for them.
"The housing department is very clear about this - their view is the nearer the better.
"The reason we pushed for this property is because the local authority was very keen on that site because it was close to (housing office) Ty Elwyn, close to the probation office and close to other services.
"The next step for us is we will look for any reasonable location.
"At the moment, I've no idea where it's going to go because we haven't found a suitable alternative.
"It doesn't have to be Elli but it needs to be reasonably near the town centre because people need access to services."