Tyrone O'Sullivan loses Mumbles chalet home battle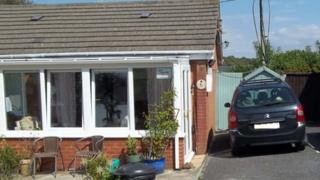 A miners' leader has been dealt a blow in his long-running battle to live permanently in his holiday chalet in the Mumbles.
Tyrone O'Sullivan wanted to remove a restricted occupancy condition which means he and his wife can only live at Langcliffe Park 10 months of the year.
But Swansea councillors rejected the application by Mr O'Sullivan, chairman of Tower Colliery in the Cynon Valley.
It was feared that allowing his bid would set an "undesirable precedent".
Mr O'Sullivan and his wife are among a number of residents on the site who use chalets as their permanent homes.
But they are not allowed to live there for 12 months of the year under the terms of their occupancy.
Mr O'Sullivan, who led a workers' buy out of Tower Colliery in 1994, argued he had spent £20,000 upgrading his chalet and he did not have any other residence.
He believes his proposal would contribute to the local stock of affordable housing.
"If it wasn't suitable [as a full-time home] I wouldn't be applying," he said.
"The big picture is that these houses are going to waste when these kids can't afford anything in Mumbles."
He said the chalets sold for around £87,000 to £90,000 making them affordable for young families.
Impact on tourism
His property was also a suitable size, he said, with two bedrooms, lounge, kitchen, bathroom and two conservatories.
"It's gorgeous. I've lived here seven years and I still feel like I'm on holiday," he said.
"I can imagine a newly wed family coming here and thinking 'this is wonderful'."
But two similar applications have previously been rejected, and council planning officers fear it would be difficult to turn down future bids if Mr O'Sullivan's was accepted.
They said it could set an "undesirable precedent for the conversion of chalets of a similar character in the area" and could impact on tourism.
Officers also said it would mean the chalets not being used for their intended purpose as holiday homes rather than permanent residences.
However, a previous Swansea council committee had gone against the recommendation of its officers and backed Mr O'Sullivan's bid.
The miners' leader said he was shocked and disappointed but added he had not given up and would take the issue further.
Donna Teesdale, one of Mr O'Sullivan's neighbours, said: "If a property can be lived in for 10 months of the year, surely it can be lived in 12 months of the year.
"We have fire engines up here, we have the ambulance up here quite a lot, everything manages to get past.
"We have running water and electricity the same as everybody else.
"Children are being born and brought up here... it's exactly the same as a normal little cul-de-sac."