Norovirus closes wards at Withybush hospital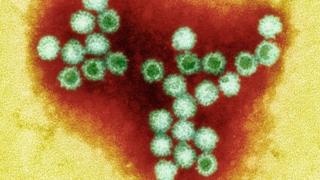 Three wards at Withybush hospital have closed following an outbreak of diarrhoea and vomiting.
Ward seven, the acute coronary unit and the coronary care unit (CCU) are shut and visiting is restricted across the whole hospital in Haverfordwest, Pembrokeshire.
Some cases of norovirus have been confirmed.
Hywel Dda Health Board has issued an urgent appeal to the public not to visit if possible.
Relatives are asked to call the wards first because of the restrictions.
Norovirus causes vomiting, stomach cramps, fever and diarrhoea, and is easily spread from person to person.
Symptoms usually begin between 12 to 48 hours after a person becomes infected, with most healthy people making a recovery within one to three days.