Row over Carmarthen's Red Street open market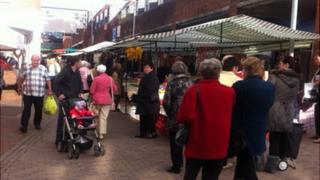 Calls have been made for a Carmarthen street market to be moved amid fears it is damaging the market town's traditional image.
The twice-weekly Red Street market was meant to be only a temporary measure while a new market hall was built.
That work finished three years ago and businesses say it is blocking shops and offering the wrong type of goods.
Carmarthenshire council says traders prefer to use Red Street and it helped maintain the "vibrancy" of market days.
Matt Davies, chairman of Carmarthen's chamber of commerce, said members felt the current situation was doing little to encourage people to visit the town.
"The market here was temporary and maybe it's time to look at relocating," he told BBC Wales.
"I'm not against the market and I like the idea of the outdoor market but if it is part of the market, it should go back to the market.
"No-one is against it, but it is obscuring shops and people who are paying rates."
The indoor market hall replaced the original market in 2009 as the first phase of the St Catherine's Walk shopping centre project which opened a year later.
'Local fresh produce'
Part of the redevelopment involved creating a market precinct which is the other location traders could use, but they have chosen to remain in Red Street.
Mike Pugh, manager of St Catherine's Walk, has other concerns which involve what is being sold at the market.
He said: "I'm happy with the stalls in Red Street but it's the product mix that's my concern.
"The market is a provisions market and I would like to see more local fresh produce provided.
"Most of it is non-food from a mixture of handbags, DVDs and clothing to hardware.
"The concern is it's blocking existing traders in Red Street so customers can't get through, and the Red Street location was supposed to be temporary."
But Jonathan Fearn, Carmarthenshire council's head of corporate property said planning permission is in place for stalls in Red Street and the market precinct.
"Traders prefer the Red Street location but the market precinct is always offered to them. There would not be enough space if the stalls were confined to the precinct only.
"The outdoor market helps to maintain the vibrancy of traditional market days in Carmarthen which serves to attract footfall to benefit the wider town centre.
"The mix of goods sold reflects consumer demand as the outdoor market is always well supported by the shopping public it is apparent that this mix is correct."