£7m River Tawe flood defence upgrade plans submitted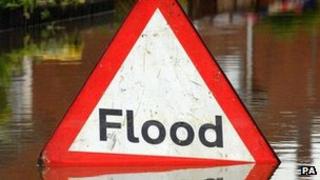 Plans for a £7m upgrade of flood defences which will protect 300 homes and businesses near the River Tawe in Swansea, have been put forward.
The two-mile stretch of the river affected covers Swansea Vale, Swansea enterprise park, Beaufort industrial estate and Plasmarl industrial estate.
Environment Agency Wales say the work would start in the spring and be completed in 2014.
Swansea council is expected to decide on the plans later this year.
Steve Brown, from Environment Agency Wales said: "Many businesses and people in the area have suffered from flooding in the past, when the River Tawe has overtopped the existing flood banks."
The agency sees the work as vital as it estimates a flood in the area could cost the economy up to £30m.
Mr Brown added: "It is also important that people prepare themselves as flooding could still happen, which is why the work of our partners at the city and county of Swansea is an integral part of this scheme."
Wildlife habitat
Funding for the scheme will come from the Welsh government and the European Regional Development Fund.
The proposals involve building new flood walls and raising existing embankments to reduce risks.
They also include moving existing flood embankments further back from the river to increase the capacity of the river and create new wildlife habitat.
The agency also plans to remove three redundant bridges that can hold back the river and cause blockages.
Nick Bradley, Swansea council's cabinet member for regeneration said: "Over £7m of investment is being made to help improve flood defences and reduce the risk of flooding in Swansea Vale.
"This part of Swansea is one of the main investment areas for businesses.
"We want to give them piece of mind that they are in an area that will continue to thrive and help boost Swansea's local economy.
"I hope local businesses and residents will go along to the drop in sessions and find out more about the work being proposed."