Mervyn Davies: Swansea service to remember rugby legend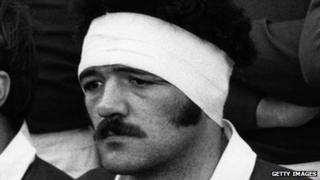 A service celebrating the life of ex-Wales rugby captain Mervyn Davies will be held in Swansea next week.
Davies, known universally as Merv the Swerve, died in March, aged 65, following a battle with cancer.
The 38-times capped number eight led Wales to the 1976 Five Nations Grand Slam and went on two victorious British and Irish Lions tours in 1971 and 1974.
The event at the Brangwyn Hall on Thursday, 1 November at 12:00 GMT, will include big names from the rugby world.
Davies's career was cut short in 1976 after suffering a brain haemorrhage playing for Swansea in a Welsh Cup semi-final.
The service has been organised by the Welsh rugby former international players' association (Wrex), whose founder JJ Williams said: "It's only fitting that the rugby world has an opportunity to pay tribute to a true icon of Welsh rugby.
"Mervyn Davies was also a chairman of Wrex, and we're all looking forward to attending and celebrating the life of one of Wales' and the Lions' greatest ever players," said Williams, who played alongside Davies for Wales and the Lions.
Former Lions skippers Willie John-McBride and John Dawes will be among those present, along with former International Rugby Board chairman Syd Millar and Ian McLauchlan, chairman of the Scottish Rugby Union.
Clive Rowlands, Mike Burton, WRU president Dennis Gethin and WRU chief executive Roger Lewis will also be in attendance.
Moustache and headband
A choir will be on hand with renditions of Flower of Scotland, Bread of Heaven and Sloop John B. The service will end with the Welsh national anthem.
Davies, who was instantly recognisable on the pitch with his thick moustache and white headband, was voted greatest Welsh captain and greatest Welsh number eight in a 2002 poll of Welsh rugby fans.
A primary school teacher, he played for London Welsh and Swansea from 1968 to 1976. In his appearances for Wales and the British Lions, he lost only nine times.
Swansea council leader David Phillips said: "Mervyn Davies was one of Swansea's most famous sons.
"He lived the dream of many thousands of schoolboys across the city and beyond by playing for Wales and the British Lions during a golden era for Welsh and British rugby.
"He was a giant of a man both on and off the field who was adored by rugby fans across the planet."
Members of the public can also attend the service and free tickets are available from the lord mayor's office on 01792 635150.