Langland Bay huts upgrade reaches final phase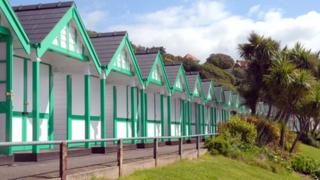 Work to refurbish historic 1920s huts on a Swansea beach front has entered the final phase.
Swansea council is giving 50 of the 79 huts on Langland Bay a makeover and is funding the scheme by charging £11,500 for a 10-year lease per hut.
All 50 leases have already been taken up and the last 12 huts in the scheme will now be refurbished and ready by the end of February next year.
The other 29 will be maintained and let for three-month periods seasonally.
Nick Bradley, Swansea council's cabinet member for regeneration, says the huts are part of history and that the upgrade enhances the character of one of Swansea's most popular beaches.
Seasonal
"In recent times they'd started to show their age after being exposed to the elements for many years," he added.
"This refurbishment scheme has already helped restore many of them to their original glory and it's great news that 12 more are soon to follow suit.
"The interest in the 10-year lease scheme illustrates the level of demand there still is in the beach huts, despite the difficult economic climate."
Work involves a complete rebuild of the existing huts while keeping the same look.
Leaseholders will be required to paint the inside and outside of the hut every three years and in the final year of the lease.
They can use the huts any time of the year except overnight.
The huts outside the scheme will be maintained as opposed to being rebuilt and only available for use on a seasonal basis for three-month periods.