Hendrefoilan House on The Victorian Society's at risk list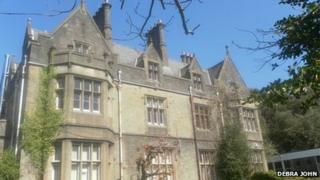 A deserted historic house near Swansea built by an industrialist and MP is on a list of the 10 most endangered buildings in England and Wales.
The Victorian Society says Hendrefoilan House topped its list of threatened buildings in Wales.
But it calls its problems "potentially serious and easily fixable".
The owner, Swansea University, says it is fully aware of the importance of the Grade II*-listed building and is in discussions over its future.
The list follows an appeal to the public to find the best and most at risk buildings.
Other buildings on The Victorian Society's at-risk list include Ipswich's former County Hall, a very early Victorian station in Derbyshire, and an ornate 19th Century dock pumphouse on Merseyside.
Lead thefts
Hendrefoilan House was built in 1853 by Welsh industrialist and MP Lewis Llewellyn Dillwyn.
The society says it has been owned by the university since the 1960s, used for accommodation and teaching, but it now stands empty.
It says water floods down the outside walls leading to damp on the inside and lead thefts indicate that criminals are aware of it.
Chris Costelloe, director of the Victorian Society, said a large number of south Wales buildings were suggested for the list.
"There's the Elysium cinema and the Palace theatre, for instance, both in Swansea. But Hendrefoilan House stood out because its problems are both potentially serious and easily fixable.
"Better security is necessary and basic repairs are required to keep water out. These would go a long way to solving its problems."
"Even if Swansea University has no current use for it, it has to keep it safe until its future is certain. An institution devoted to learning should have more respect for a building symbolic of Wales's industrial history and culture."
Miners' library
"The public responded enthusiastically to our call for threatened buildings. It shows the public cares - but it also shows there are still too many historic buildings at risk, without recognition or protection."
A university spokesperson said: "Swansea University has restored and refurbished the stable block of Hendrefoilan House and it now houses South Wales Miners' Library, supporting university activities and the community across south Wales and beyond.
"The house was in regular use up until a few years ago when the decision was taken to close it as it needed work to preserve and protect it.
"The university is fully aware of the importance of Hendrefoilan House as a Grade II* listed building and is working towards finding a sustainable future for the House.
"We have been in discussion with various parties, including the National Trust, to consider options for the house and its gardens."
The spokesperson added they have contacted the Victorian Society and would be happy to hear their ideas of how the house can be safeguarded.