Comedian Omid Djalili fined for speeding after driving without licence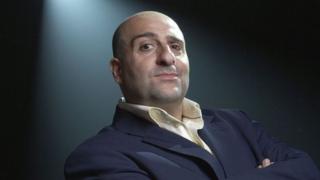 A TV comedian twice banned from driving has been given another speeding fine by Neath magistrates, after being caught driving again without a licence.
Omid Djalili, once the face of an insurance comparison website, was caught on a speed camera on the M4.
The court heard Djalili was first banned in 2008 and had never reapplied for his licence.
Djalili, 47, was again banned from driving just a month ago for riding his moped without insurance.
Andrew Perry, prosecuting, said Djalili's latest offence took place in January this year.
He said: "He was driving his Lexus 450 hybrid on the M4 going 61mph in a 50mph at Port Talbot.
"When the form was sent to him, Mr Djalili returned it with the message: "Asking humbly for leniency - comedian driving to entertain troops. Swansea, Omid."
But Mr Perry told the court that the DVLA investigated but could not find that any troops had been in Swansea and that he was driving the wrong way.
Riding illegally
Mr Perry told the court Djalili, formerly the face of comparison website Moneysupermarket.com, had "effectively been driving without a licence since it was revoked in 2008".
He said that since then Djalili had since committed three offences of failing to identify the driver of vehicles in his name.
The court heard Djalili was disqualified last month by City of London magistrates for driving without insurance and riding illegally in a cycle lane.
The father-of-three was last month fined £2,900 and banned from driving for six months.
On Tuesday, another three points were put on his licence for speeding along with £1,350 in fines and costs.
Djalili, of East Sheen, London, did not appear in court. His solicitor said it was not meant as "sign of disrespect to the court" but to reduce legal costs.