Llanelli residents cautious welcome over ex-offenders' home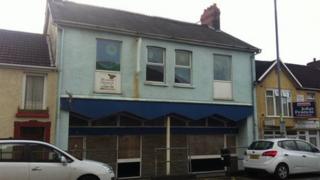 Residents have cautiously welcomed news that plans to house ex-offenders in their street have been dropped.
Caer Las Cymru wanted to turn the former Moose Hall in Llanelli into a home for six ex-offenders.
But the property has now been up for auction which rules the Swansea-based charity out of buying it.
It faced opposition last year when it wanted to convert a former nursing home before the building was bought by someone else.
Christine Clarke, chair of the local residents' association which takes in Old Castle Road where the hall is, says they will not rest until the building is bought and they know what the new owners intend to do with the building.
"We are not going to take it on face value," she said.
"We are optimistically cautious but we are going to have to keep vigilent until we know for certain what's going to happen.
"We are looking after our own homes and families."
Ms Clarke says residents are opposed to any sort of home in the area because it already has a drug problem and a probation office nearby.
"We've got two parallel streets with a back lane in between, and Moose Hall backs on to the lane.
"There's drug dealing in the lane on a daily basis and you can see needles and canisters. We see it all the time."
She added: "We've got a lot of older people and a childrens' nursery a couple of doors away.
'Holding our breath'
"The thought of having an ex-offenders... they are high risk to themselves and a high risk to other people."
Councillor John Jenkins, who looks after the Elli ward, also backed the residents' concerns.
He said: "Until the hammer comes down and somebody else buys Moose Hall, we will be holding our breath.
"The facility is needed to help these prison leavers get straight, but this wouldn't have been the best place for it.
"It's next to a nursery, in the same street as Llanelli leisure centre and in an area which has already shouldered it's fair share of undesirable facilities in the area."
Last year, similar plans in nearby Queen Victoria Road were fought.
About 300 people protested and some hauled sofas into the road in an attempt to block it over plans to house between 12 and 18 prison leavers in the vacant St Elli nursing home.
A spokesperson for Caer Las said: "The fact the property is being put up for auction means we are no longer able to continue our interest in it."