'Garden city' plan for Margam opencast mine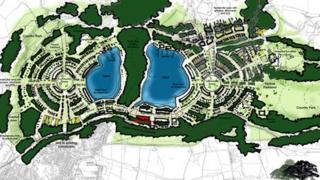 Developers behind plans to regenerate an opencast mine in Neath Port Talbot have unveiled plans to build a "garden city" at the location.
Oak Regeneration said its 20-year plan for Margam mine included building 2,500 homes, new schools and neighbourhood services.
But local people are objecting to its bid to also resume coal extraction at the site for up to five years.
Aberavon MP Hywel Francis said he was against extending coaling at the mine.
The developers will canvas local views on their plans from next month ahead of putting in a planning application early in 2013.
Oak Regeneration, which acquired the Margam site, near Port Talbot, in 2010, will make a formal submission on the project to Neath Port Talbot council this week.
But Bridgend council planners will also need to be consulted as the site straddles the borders of the two local authorities.
Oak Regeneration spokesman Alan Whiteley said: "Our plans for the site have taken time to develop as we have had to get to grips with Margam's complex mining history dating back to the 1960s.
"We now have a very exciting vision of what could work at Margam, a vision that could transform this area into one of the most sustainable new communities in the UK."
The firm said the construction phase would create hundreds of new jobs while the surface mine site could be tapped for geothermal energy to provide heating and cooling for the homes.
It said: "It has a railway platform which can provide a sustainable public transport link and it can connect the short distance to the M4 motorway via new road improvements."
Mr Whiteley added: "In sustainable development terms this makes a compelling case for a major regeneration project at Margam.
'Noise and dust'
"We have the ability here to deliver a zero carbon exemplar using a new interpretation of the garden city concept."
The firm is also drawing up details how it would extract coal from the site over a period of three to five years. It estimates the mine has workable coals reserves of 1.5 million tonnes.
Dr Francis has issued a joint statement with Aberavon AM David Rees opposing the prospect of further mining.
They said: "We welcome the recognition of Oak Regeneration of their commitment to restore and regenerate the Parc Slip site in Margam.
"However, we note their intention to continue coal recovery from the site which would require a planning application for an extension to the existing site.
"We continue to support local residents and oppose any extension to coal recovery at the site and call upon Oak Regeneration to commence restoration of the site quickly.
"Local communities have for too long lived with a working opencast site and now that it is no longer operational it is time the landscape was restored."
Oak Regeneration is jointly behind proposals to regenerate nearby East Pit in the Amman valley for tourism and leisure.