Olympians and Paralympians celebrated at Swansea event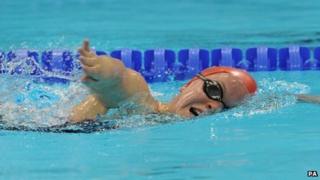 The achievements of Olympians and Paralympians will be celebrated at an event in Swansea.
Torchbearers and Games ambassadors will also be honoured at the city's Grand Theatre on Thursday.
Four athletes from Swansea took part in London 2012 and 11 in the Paralympics. They took home 15 medals including two golds and seven silver.
More than 60,000 well-wishers crowded the streets of Swansea for the Olympic torch relay in May.
Council leader David Phillips said: "What an amazing summer it was. It proved, as if proof was needed, that Swansea truly is a city of sport.
"The performances of athletes in sports as diverse as swimming, weight-lifting and table tennis were incredible and I'm sure there will be a new generation inspired to follow in the wake of their local heroes."