Swansea students fight council over shared homes plan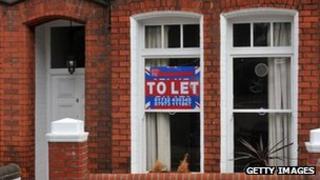 Student representatives and Swansea council are involved a row over houses of multiple occupation (HMO).
A HMO is any house occupied by three or more unrelated individuals.
Councillors want powers to control planning over HMOs in the city saying some areas have too many and that residents want their streets back.
But Swansea University students' union says many HMOs are affordable student homes and fears that new powers could result in fewer being available.
Welfare officer Charlotte Britton said: "A lot of HMOs are student houses, and are some of the most affordable housing in the private rented sector.
"This makes them very popular for a lot of young people and those on low incomes in cities across the UK.
'No proof'
"These caps on HMOs have already been introduced in some university cities in England, due to certain lobby groups who think that stopping HMOs will solve problems such as incorrect waste disposal, poor housing standards and anti social behaviour.
"So far, there is no proof that these caps have made any significant improvement in any of these areas.
"Swansea students' union also shares the same view as NUS Wales, that encouraging people within their community to engage with each other and work together to solve community tensions is much more effective than using badly thought-through planning laws."
Swansea's Labour-led council said in its election manifesto that tackling what it called an "overconcentration" of HMOs which "blights" many parts of the city would be a major priority.
Brynmill and Uplands are areas where many students live in shared homes.
And earlier this month first minister Carwyn Jones said capping would be "the last thing" the Welsh government would do.
Community
But John Bayliss, councillor for Uplands says the issue is not about placing a cap on the number of HMOs.
"We want to control them, we don't necessarily want to cap them," he said.
"The densification in my ward is the main issue. We have a problem where 80% of a certain street is HMO and the remaining 20% don't feel there's a community."
Mr Bayliss said having planning control would allow the council to make sure HMOs could be placed in suitable locations.
He added that it would give them the power to force landlords to improve property standards or take their licence away.
The councillor also pointed out that there were about 1,400 HMOs in his ward and the neighbouring Castle ward.
As many of them were rented by students, he said no council tax was paid but money still needed to be found to provide services in those areas like rubbish collections.
"I think the student body have their own interest and they exclude the needs of the local community," Mr Bayliss added.
"The statement from the welfare officer of the Swansea students' union is unfortunate. I see their argument but it's only one part of an argument."
Councillors are due to meet housing minister Huw Lewis at a later date.