£60m Morriston Hospital, Swansea works phase starts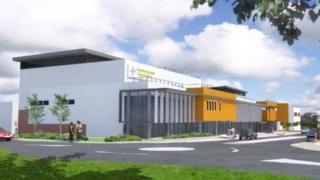 Plans for a £60m overhaul of the main buildings at Swansea's Morriston Hospital are under way after funding was approved by the Welsh government.
Over the next two years the existing buildings, which date back to World War II, will be revamped and an extension built.
It will include a new main entrance to the hospital and three retail outlets.
The extension will house the main outpatients department, radiology and education centre among others.
Renal dialysis, dental and X-ray departments will also form part of the new building.
Clinical staff have played a key role in the design process of the facilities to ensure the new environment will support the needs of both the patients and services.
The work is part of a £102m redevelopment of Morriston Hospital which has already seen a multi-storey car park, a helipad, new road infrastructure and walkways built.
Impovements to the emergency department will finish in December while a new artificial limbs and appliance centre, regional engineering unit and medical electronics department will open next year.
Paul Stauber, ABM's director of planning, said: "This is a very large investment for Morriston Hospital.
"Now that the funding has been approved by Welsh government, the planning team and clinical staff can focus on how we will commission and use the new buildings.
"It will be a huge improvement to the existing buildings, which were built for World War II during the 1940s.
"The construction work will continue the sweeping transformation of some of the oldest buildings in Wales."