Carmarthen student James Cory survives cardiac arrest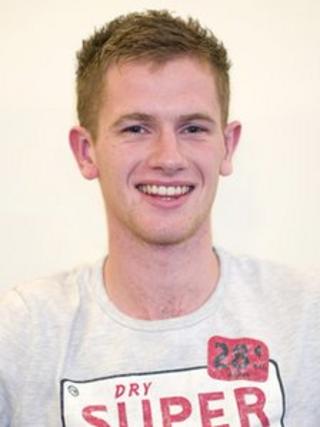 A 20-year-old university student has thanked medics who saved his life after he collapsed on a students union dancefloor with a cardiac arrest.
James Cory, from Cornwall, fell ill during a night out at Trinity St David University, Carmarthen.
He was treated by staff and police before two St John Ambulance medics on duty in the town centre restarted his heart, and he was taken to hospital.
"I'll be forever grateful," said Mr Cory, who is undergoing tests.
The sports student was with friends at the university's students union when he collapsed in the early hours of Sunday 30 September.
An ambulance was called and he was taken outside by the security team.
Andrew King, 27, said he and fellow St John Cymru Wales volunteer Mathew Jones, 21, who were on duty in the town centre, arrived to find door staff and a police officer performing CPR (cardiopulmonary resuscitation) on Mr Cory.
"We found he was in full cardiac arrest and wasn't breathing," said Mr King.
After applying a defibrillator to Mr Cory, he was taken by ambulance to Glangwili hospital in Carmarthen.
"I don't remember anything at all about what happened," said Mr Cory. "I owe my life to Andy and Mathew."
The student said he had had no idea that he was ill.
Tests
"I'm young, I keep fit and I never contemplated that something like this could happen to me," he said.
He is still in hospital undergoing tests to discover the cause for the cardiac arrest which still remains unknown.
Every week in the UK at least 12 people under the age of 35 die from undiagnosed heart conditions, said St John Cymru Wales.
The frequency of cardiac arrests among young people was highlighted when Bolton Wanderers footballer Fabrice Muamba collapsed on the pitch at Tottenham's White Hart Lane during an FA Cup quarter-final in March.