Swansea University's Hendrefoilan student village for sale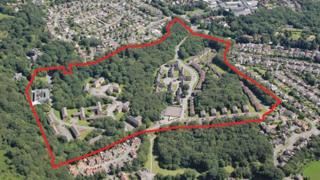 Swansea University has put its student village up for sale as part of plans to build a £200m science and innovation campus on the outskirts of the city.
The Hendrefoilan village in Sketty, which houses 1,644 students, will eventually make way for up to 270 homes over two phases starting in 2015.
Students will then be housed at the new campus.
Estate agent Savills has not put a price on the land, but said bids will be based on a certain proposed scheme.
"These are very exciting times for the university as our ambitious expansion plans are now coming to fruition," said the pro-vice chancellor, Iwan Davies.
"We will be creating purpose-built student accommodation on the new campus and the sale of Hendrefoilan forms an integral part of our sustainable business plan for financing our campus development, both at the new campus and on Singleton Park.
"These developments are also part of our commitment to improving the student experience."
Building work on the new campus, on a 69-acre site off Fabian Way, will begin next year and will focus on science and innovation as well as providing student residences.
About 4,000 direct jobs will be created during the construction phrase with a further 6,000 indirect jobs supported in the wider economy as a result.
Oil giant BP originally donated the land which has outline planning permission, while businesses who will be involved in the new campus include Rolls Royce, Hewlett-Packard, Tata, Bell Labs and BAE.
The university's Singleton Park campus will also be regenerated.
Scott Caldwell, a director of Savills in Cardiff, said "strong interest" was expected from the major housebuilders.
"Whilst the site will not be available until after completion of the student residents at the new campus in 2015, there is a lot of preparatory work to undertake between now and then and the university has decided to appoint a developer to work with in obtaining the best planning permission for the site," he said.
The old part of the village will go first, with the woodside flats remaining until about 2019 when the second phase of the new campus is complete.
The Grade II-listed Hendrefoilan House and stables which currently houses the South Wales Miners Library at the back of the village will be retained.