Swansea's old central library in £8m revamp by university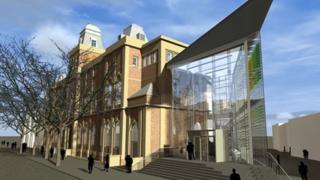 Work has started on an £8m redevelopment of Swansea's former central library which is being turned into a centre of design excellence.
The library closed in 2007 and Swansea Metropolitan University bought the Grade II-listed building last year.
The building, which was opened by Prime Minister William Gladstone in 1887, will be restored.
A glass front, extra space and an exhibition area will also be added by the time it opens in September 2013.
"This is a prime example of Victorian architecture and conservation of its appearance is key to any development works," said David Overment, director of estates at Swansea Met.
"The university's intention is to return the building to its original glory in a modern context, creating a new and updated seat of learning.
Dr Who
"We'll retain the grandeur of the building's original facade, ensuring any new additions complement the original design."
The library was transferred to the city's civic centre in 2007 and the building has been used in television programmes Dr Who and Sherlock.
It has also been home to the university's school of glass until it was bought from the council last year.
When redevelopment work is finished, the university's school of industrial design, which offers programmes in product and automotive design, will also be located in the building.
It will become an international centre for research and design focusing on automotive design, sustainable product design and architectural glass.
In 2006, the university recently bought and redeveloped the former Dynevor Grammar School building nearby and transformed it into the Dynevor centre for art, design and media.
It also owns the former BBC building opposite the library on Alexandra Road and last year bought the former Land Registry building on High Street.
Swansea council's cabinet member for regeneration, Nick Bradley, said: "This is an exciting time for regeneration in the Alexandra Road area.
"Preparations for a multi-million pound upgrade of the Glynn Vivian art gallery building are well underway and this project will lead to a facility of international quality in an historic building just across the road.
"The project perfectly illustrates how we can work in partnership in Swansea to protect our heritage while developing facilities befitting of the 21st Century."