Ryder Cup golf star Sergio Garcia watches Swansea City train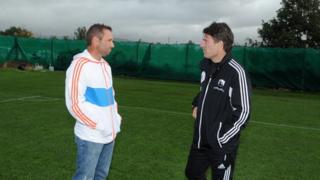 Golf star Sergio Garcia has swung over to Wales to watch Swansea City train, just days after helping Europe clinch their Ryder Cup victory.
Garcia, 32, met up with City's Pablo Hernandez, his sister's boyfriend.
He is also hoping to watch the team's home game against Reading on Saturday.
A keen follower of Spanish football, he said: "It's my first time in Swansea, but I am a big football fan and obviously I'm a Swansea City fan now that Pablo is playing here."
Garcia was part of the European team which staged a dramatic comeback to beat the US in Chicago earlier this week.
According to Swansea City's website, he watched the Swans train at Llandarcy on Tuesday.
He was introduced to players and posed for pictures with golf fans within the squad.
"Pablo is my sister's boyfriend so I came in with my parents to see them. We came straight from the Ryder Cup to Swansea," said Garcia.
"We wanted to check the place out a little bit and to see my little nephew as well.
"I follow the Spanish league more, but I do watch some English football.
"I saw Swansea play against Everton a couple of weeks ago. I was in Atlanta but I was able to watch the game.
"I have to do some things in Switzerland and Germany this week, but I hope to fly back in on Saturday morning to see the game against Reading," he added.