£500,000 Swansea business upgrade cash untouched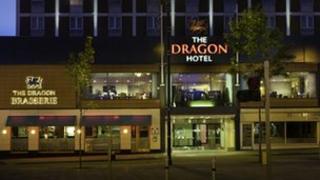 About £500,000 is lying in Swansea council coffers waiting to be used by city centre businesses who want to spruce up their shop fronts.
The council set up the building enhancement programme two years ago with a total of £1m available through Welsh government and European funding.
Businesses have to put up 50% of the total cost of the works.
But up to now, only half of that fund has been taken up by 14 businesses and the council wants more to come forward.
"We recognise that having an attractive-looking front of a business helps attract trade and this is why schemes of this nature can be so influential," said Nick Bradley, the council's cabinet member for regeneration.
"It's also the case that having several attractive-looking businesses in close proximity to one-another helps boost the appeal of an entire area. This can potentially lead to more investment in future."
He said several independent retailers have taken up the grant.
"We have expert officers on hand to talk to any business that may be interested about the scheme and help them through the application process if they're eligible.
"It's especially important we do all we can to support our city centre traders during these difficult economic times in the face of competition from out-of-town retail parks and internet shopping.
"This is why many schemes are in place to improve the city centre."
Other schemes include a multimillion-pound upgrade of the Lower Oxford Street retail area and the introduction of a city centre loyalty card scheme that's been joined by thousands of shoppers and close to 100 traders."