223 Signal Squadron presented with medals in Haverfordwest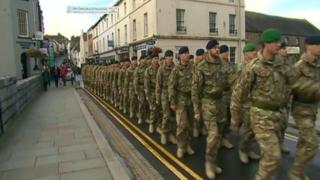 Troops who recently returned from Afghanistan have been presented with medals after marching through a Pembrokeshire town.
Soldiers serving with 223 Signal Squadron (Electronic Warfare) are based at Cawdor Barracks in Haverfordwest.
Mayor Ken Wyburn, presented campaign medals to the troops on what he called "a proud day" for the town.
Meanwhile, injured soldiers are to pass through north Wales on a charity run and cycle around Britain.
The team is made up mainly of members of the British Armed Forces who left Plymouth, Devon, in January for the Tour De Forces event.
On Wednesday they will pass through Prestatyn, Rhyl, and Llandudno before arriving at Menai Bridge, at about 16:00 BST.
On Thursday they will travel through Anglesey on their way to Pwllheli.
In Haverfordwest, the troops were led by a military band before being presented with their medals.
Mayor Mr Wyburn, who helped present the medals, said: "This will be a very proud day for our town and it is only right that we recognise the risks these men and women take on a daily basis whilst on active duty.
"I regard it as a privilege and a very special duty to make this presentation on behalf of the town."