Whitland Bibby Distribution milk centre to close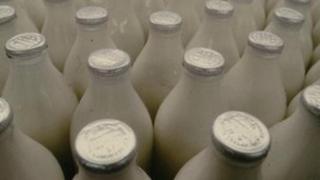 The owners of a milk distribution depot in Carmarthenshire have announced the site is to close and move to a new site in the county.
About 50 people work at Bibby Distribution in Whitland, and it is unclear how many will be offered jobs at the new depot in Cross Hands.
The owners said the new site would provide a greater opportunity to develop the business.
It said it was speaking to all staff at Whitland about the change.
Drivers employed at the site collect milk from farms in west Wales before it is transported on for processing.
Some drivers are unhappy at the proposed closure as the new Cross Hands site is about 30 miles (48km) away.
The milk distribution centre is next to the site of an old creamery which closed in 1994 with the loss of 150 jobs.
Only a small milk bottling operation, the Proper Welsh Milk Company that opened last year, now remains in Whitland.
"The move comes following a detailed review of the company's operations in this area and will offer greater opportunity to develop the business," said a spokesperson for Bibby Distribution.
"We are now liaising with all staff based at the Whitland site on a one-to-one basis.
"Although a firm relocation date has not yet been confirmed, it is anticipated this will take place in early December 2012," the company added.