Beverley Jones's rolling pin attack on boyfriend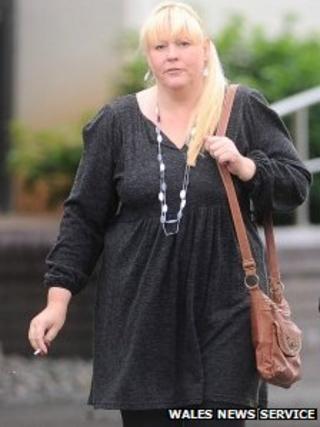 A woman who hit her partner in the face with a rolling pin after suspecting him of cheating has escaped a jail term.
Beverley Jones, from Swansea, told Michael Rees to close his eyes for a Christmas present and count to three before she struck him on the nose.
Mr Rees, who denied cheating, had to be treated in hospital for cuts and swelling after the attack.
Jones admitted assault causing actual bodily harm and was given a two-year community order at Swansea Crown Court.
Kevin Jones, prosecuting, said Jones suspected her partner of being unfaithful after finding a text message on his mobile phone.
"They rowed about the text message but made up and he asked her to go to bed.
"He got undressed and went under the covers.
"Jones came upstairs turned off the light and said: 'I've got a Christmas present for you. Do you want it?'
"She asked him to close his eyes and count to three.
"On opening his eyes he saw her above him with her arm raised holding a rolling pin.
"She struck him on the bridge of the nose and said: 'That's what you get for going for girls behind my back.'
"Infidelity was clearly at the front of her mind."
Problems
Mr Rees was taken to hospital with facial injuries including a cut and swelling to the bridge of his nose.
The prosecution said he had suffered flashbacks following the incident in December 2011.
The court heard the text message to Mr Rees had been innocently sent by the girlfriend of one of his workmates.
A statement from Mr Rees read to the court said: "I believed our relationship was going well.
"I cannot believe what happened. I didn't expect her to attack me."
The couple broke up following the incident and has had no contact since.
Jones admitted assault causing actual bodily harm and was given a two-year community order.
Judge Christopher Vosper said: "This was an isolated aberration - I do not believe sending you to prison would be the correct sentence.
"You need support and help to deal with your problems."