Swansea traffic wardens to wear cameras to record abuse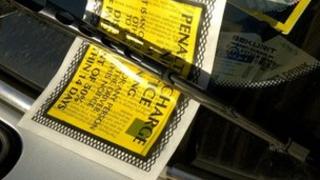 Traffic wardens in Swansea have started wearing body cameras to catch verbal or physical abuse they suffer from motorists.
The 10 cameras, which cost Swansea council £6,195, will also be used to check complaints made against wardens.
Since the city's civil parking enforcement was launched in 2008, wardens have reported assaults, being spat on and one was hit by a car.
The council said the cameras would help diffuse potential confrontation.
"Officers are obliged to inform members of the public that they are being filmed," said a council spokesman.
"One of the main purposes of the cameras is to help deter officers being abused or assaulted," he added.
'Respect'
"Assault is a criminal offence and should the police wish to use footage in evidence for a prosecution, the film would be made available to them.
"We would always urge people to treat our parking enforcement officers with respect."
In one year alone, there were 73 incidents against traffic wardens, of which 10 were reported to the police.
Councillor June Burtonshaw, cabinet member for place, said there have also been 15 formal complaints against wardens.
'No evidence'
"One complaint was withdrawn, and seven were addressed at the first stage of the complaints process following investigation," she added.
"Seven complaints against civil parking enforcement officers were progressed to disciplinary investigation in accordance with the council's disciplinary procedures.
"One was upheld with appropriate sanction in accordance with disciplinary procedures.
"In four cases no evidence of wrongdoing was found and two cases are currently being investigated."
Last month, plans were announced to introduce a camera car to tackle illegal parking, mostly at bus stops and outside schools in Swansea.
The mobile camera would not replace wardens, but it covers a wider area and does not have to wait five minutes before handing out a ticket.
Swansea council has agreed to a £77,000 scheme, but is asking the public for their opinion first.
The mobile technology would also be used at problem areas like Gower and the Liberty Stadium.