Irene Lawless murder: Killer's life term 'never enough'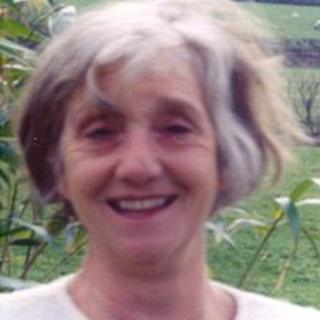 The family of a grandmother who was raped and murdered say her killer's life sentence can "never be enough".
Irene Lawless, 67, was strangled by Darren Jackson, who broke into her Carmarthenshire bungalow in the early hours and attacked her as she slept.
Jackson, 26, originally from Kent, was jailed for a minimum of 28 years after admitting murder in Llanllwni.
Mrs Lawless's family welcomed the sentence but said it could never "justify the loss of Irene".
The judge, Mr Justice Royce, warned that Jackson may never be released as he sentenced him at Swansea Crown Court on Monday.
Jackson, who was living next door to Mrs Lawless, was described as having a "warped and perverted mind".
After sentencing, Mrs Lawless's family issued a statement saying: "As a family we are content but the sentence imposed will never be enough, it will never justify the loss of Irene.
"The family would like to give our heartfelt thanks to everyone involved with bringing Irene's murderer to justice.
"The family would like to pay thanks to the community of Llanllwni in their support to the police in their inquiries throughout the investigation and also for their support and kindness shown to the family during this difficult time.
"Thanks are also given to Dyfed-Powys Police for the swift and effective arrest of Darren Jackson and also for their support to the family during such a difficult time."
The statement added that there were too many people to thank, but everybody had the family's "eternal gratitude for their hard work, support and genuine care during past nine months".
Passing sentence, Mr Justice Royce said Jackson had a warped and perverted mind.
The murder had left Mrs Lawless's family traumatised and shocked and a close-knit community appalled.
Jackson had looked at pornographic websites involving rape and older women before the murder, the court heard.
After breaking into Mrs Lawless's bungalow one morning last January and subjecting her to a sustained sexual assault before strangling her, he stole her handbag and car and drove to Deal in Kent, where he was later arrested.
Jackson had pleaded guilty at an earlier hearing.