World writings compared by Swansea University web tool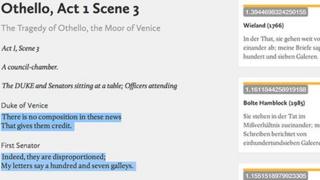 An online tool showing how works of world culture have been translated in different ways has been developed by scientists at Swansea University.
The tool analyses an original text and uses graphics to highlight its various interpretations, often over centuries.
Linguist Dr Tom Cheesman said: "The differences between translations are a fascinating source of information."
The tool can be used to compare writings in any language and for text books as well as works of literature.
Called Visual Variation Visualisation or VVV, the tool was launched at Shakespeare's Globe Theatre in London.
The work involved a team across across a range of disciplines including languages, computing science, English and design.
The online tool has been tested on Act 1 Scene 3 of Shakespeare's Othello, finding 38 versions in German alone dating from 1766-2010.
Dr Cheesman, of the university's College of Arts and Humanities, said: "We think it'll be very useful for people studying Shakespeare in schools and colleges all around the world.
"For example, millions of Chinese students study Shakespeare.
"It will also be useful for people producing the plays on stage, to see how differently his work can be interpreted, in different contexts.
"And we're not stopping at Shakespeare. We want to go on to work with other texts that keep being translated again and again.
"The differences between translations are a fascinating source of information: firstly, about the cultures which do the translations.
"But secondly also they tell us a lot about the work being translated: what it means, and what it can mean."
The team has already run a "multilingual crowd-sourcing" test called Delighted Beauty, asking people to contribute a version of the Duke of Venice's couplet:
If virtue no delighted beauty lack,
Your son-in-law is far more fair than black
So far the project has logged hundreds of versions with translations in 32 languages, from Albanian and Arabic to Ukrainian and Turkish.
Dr Cheesman, 51, who speaks French and German, said he hoped to work next on Chinese translations of The Merchant of Venice.
He said: "It's a way of drawing people in to the fascination of languages. It's always unpredictable the way people translate things."